Today's Snapshots: Palm Harbor, FL

Easton, MD Nacogdoches, TX Laupahoehoe, HI

10 States with Low Living Costs

Latest In-Depth Review: Colorado Springs, CO Nestled in the shadow of Pikes Peak, Colorado Springs boasts a scenic setting, top notch health facilities, varied cultural amenities and an easygoing pace.

Latest Snapshots: Coconut Creek, FL

Lewisburg, WV Carolina Beach, NC Boulder City, NV

Latest Short Review: Surprise, AZ Outside of Phoenix, Surprise is clean, affordable and growing. Is it a great place to retire?
------------------------------------------------------ Articles ---------------------------------------------------------
3 Tips for Launching a Second Career | 3 Cities with Great Boardwalks | 3 Cities with Great Trolley Rides | What Retirement Benefits are Taxed by Which States? G through L
More Recent Town Snapshots:
Deerfield is situated along the congested southeastern Florida coast and started out as an agricultural community. It was named Deerfield for the deer grazing in the fields and remained a farming hub until the 1940s when it changed its name to Deerfield Beach in an effort to attract tourists.
---
Nestled in breathtaking San Juan Mountains' scenery in southwestern Colorado, tony, mellow Telluride sits on the San Miguel River in a forested box canyon. It is best known for its ski resort and summer festival season, but it started out as as a silver mining camp in 1878. It is also the place that outlaw Butch Cassidy robbed his first bank.
Surrounded by the Chattahoochee National Forest in the Blue Ridge Mountains of north central Georgia, Blue Ridge started out as a railroad town in 1896. It later became a health resort, thanks to its mineral waters, and at one time it boasted five hotels. Today, it is a tourist destination, attracting a lot of Atlanta residents (and others) on weekends.
Chock full of history and Old West character, Jerome is an old copper mining town (and National Historic District) that sits atop Cleopatra Hill (elevation 5,000 feet) in the rugged Black Hills of northwestern Arizona, about half way between Flagstaff and Prescott. Founded in 1876, it was known as the "wickedest town in the West" and has a story of boom and bust.
X
Click on a State to Find Previous Reviews
x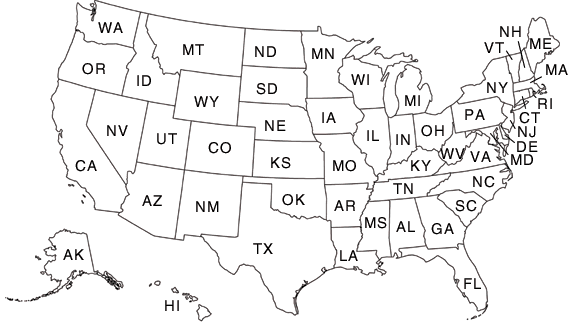 What Makes a Great Retirement Spot?
We look at a number of factors, including cost of living, medical facilities, climate, transportation, crime rate, cultural amenities, educational amenities, shopping venues, infrastructure, recreational opportunities, senior services, poverty rate and more. No one factor alone, except a very high crime rate, will disqualify a town as a great retirement spot, but several factors combined, such as a high crime rate, a high poverty rate and population loss, generally will. A high cost of living or high taxes alone are not enough to disqualify a particular town because some people prefer more affluent communities and are able to pay higher costs and taxes. And not everyone is looking for the same amenities, so, for example, a town without a symphony or a fishing lake will not be disqualified since not everyone is looking for those things. We try to look at all kinds of places in all price ranges and get a feel for each one. Then we weigh all of the evidence to decide if a town has enough going for it to make it spot for retirement.