Today's In-Depth Review: Murfreesboro, TN Easygoing and affordable, Murfreesboro has been growing and exudes a country charm. It is a great retirement spot!

5 Top Tax Friendly States for Retirement

Retirement Income is Taxed by Which States (T Through W)?

Latest Snapshots: Port Salerno, FL

Buckhannon, WV Deadwood, SD Kaunakakai, HI

Latest Short Review: Helen, GA Nestled in lush northeastern Georgia, Helen is a recreated Bavarian alpine village. Is it a great place to retire?

Latest Snapshots: Longboat Key, FL Morganton, NCCollege Station, NC
------------------------------------------------------ Articles ---------------------------------------------------------
Retirement in Alabama? Taxes and Stats
More Recent Town Snapshots:
In 1696, a ship carrying British Quakers sank off Florida's southeastern coast, and the small religious group was forced ashore. It was the first time that white men had set eyes upon the idyllic area now known as Hobe Sound.
---
Settled in the 1850s, Lawrence was the site of the Wakarusa War and is now the home of the University of Kansas (28,000 students). It is in the northeastern section of the state, about half way between Topeka and Kansas City, and along the Kansas River. In recent years, the city has landed on "best places to live" lists.
Ocracoke Island is one of North Carolina's Outer Banks' most remote islands. Its only population center, the romantic little village of Ocracoke, is on the island's southwestern edge and is the place where the pirate Blackbeard met his demise in 1718.
Comfortable Rio Rancho is in north central New Mexico and is essentially a suburb of Albuquerque. It has been growing fast, its population mushrooming by 70% in the last decade.
Click on a State to Find Previous Reviews: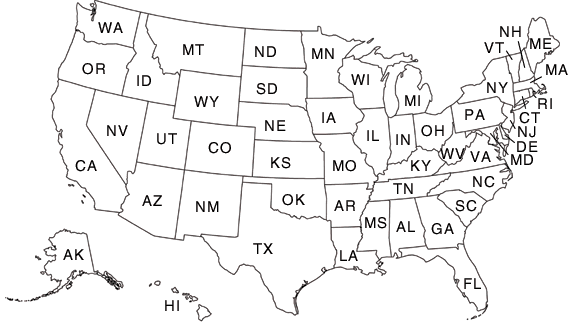 What Makes a Great Retirement Spot?
We look at a number of factors, including cost of living, medical facilities, climate, transportation, crime rate, cultural amenities, educational amenities, shopping venues, infrastructure, recreational opportunities, senior services, poverty rate and more. No one factor alone, except a very high crime rate, will disqualify a town as a great retirement spot, but several factors combined, such as a high crime rate, a high poverty rate and population loss, generally will. A high cost of living or high taxes alone are not enough to disqualify a particular town because some people prefer more affluent communities and are able to pay higher costs and taxes. And not everyone is looking for the same amenities, so, for example, a town without a symphony or a fishing lake will not be disqualified since not everyone is looking for those things. We try to look at all kinds of places in all price ranges and get a feel for each one. Then we weigh all of the evidence to decide if a town has enough going for it to make it spot for retirement.